Thad's Place
This medium tempo blues is a perfect swing chart for developing jazz groups. Opening with a piano solo before the unison brass statement of the melody, this chart keeps the ranges and rhythms in just the right place to ensure success. Scored to work with full ensembles or groups with limited instrumentations, this chart works well with just 2 alto saxes, 1 tenor sax, 2 trumpets, 1 trombone and rhythm section. The solo section includes written or improvised solos for trumpet and alto sax, and the chart just keeps on cookin' in a wonderful groove.
Grade: 1.5
Style: Swing (16 bar blues)
Duration: 3'37"
Trumpet Range: F
This chart is now published by Jalen Publishing
You can purchase this chart from various online retailers including JWPepper
Listen to a sample audio recording.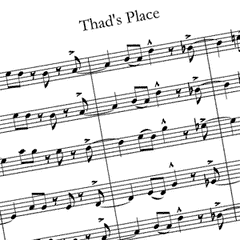 View a sample score.