Blues for Brent
This medium swinger opens with the piano setting the mood by comping and soloing. Muted trumpets jive along with the sassy melody and then the saxes get their turn accompanied by brass fills. There's plenty of room for improv solos from tenor and trumpet while the bari player lays down tasty background punches. After the solos a whispering shout chorus begins and builds as the band delivers some high energy blues to bring this great chart to a close.
Grade: 4
Style: Medium Swing
Duration: 3'26"
This chart is now published by Jalen Publishing
You can purchase this chart from various online retailers including JWPepper
Listen to a sample audio recording.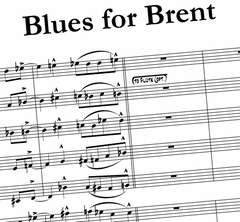 View a sample score.